J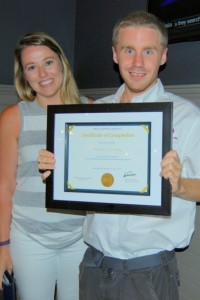 ohn Quincy Adams once said, "If your actions inspire others to dream more, learn more, do more, and become more, you are a leader." This definition of leadership can apply to many who work in nonprofits, as well as whose lives are improved because of nonprofits.
Matthew is a 2017 graduate of MNN nonprofit member Thrive Support & Advocacy Leadership Experience And Development (LEAD) initiative. The LEAD initiative empowers young adults who live with intellectual and developmental challenges to better the world around them. Supported by staff who provide a dynamic range of activities such as public speaking tutorials and collaborative group projects, future "LEADers" that participate in the program gain the knowledge, practical skills, and confidence to become leaders in their communities.
Matthew has been participating in Thrive's programming for more than six years and currently works part-time at Hannaford's Supermarket in Marlborough, where he applies the leadership skills he learned in the LEAD initiative. "The number one thing I have gained [by participating in LEAD] is confidence," he says. "This confidence has helped me take on more responsibility with my family and at work."
In addition to applying the skills he's learned in his work and family lives, Matthew is giving back to the program that gave him confidence by serving as a mentor for current LEADers. "As a mentor, I enjoy working with the LEADers to teach them about making good choices and setting goals. It's been great to see them develop their skills as I have."
Thrive Support & Advocacy's LEAD initiative is revolutionary in that it challenges societal expectations of people living with intellectual and developmental disabilities by instilling them with confidence, purpose, and a sense of their own potential to improve their communities. Matthew's story is one of the countless others whose lives have been transformed because of a nonprofit.